200hrs. Yoga
Teacher Training in Rishikesh
Become a International Certified Yoga Teacher
200 Hour Yoga Teacher Training in India
Namaste! One of the Best Hatha Yoga Schools in Rishikesh, Tapas Yogshala is accredited by the Yoga Alliance of the USA. We have been offering Ayurvedic Therapy, Detox, and Pranayama Yoga Retreats in Rishikesh, as well as 100-, 200-, and 300-hour Yoga, Pranayama, and Meditation Teacher Training Courses. The most reliable location to learn classical yoga is Tapas Yogshala. The yoga enthusiast can enjoy a delightful and enthralling yoga session in the midst of nature at Tapas Yogshala. One of the greatest yoga schools in Rishikesh, it teaches pupils the authentic teachings of yoga. It enables the students to master the ideal class management method in addition to the fundamentals of Hatha yoga. Rishikesh is renowned for providing the best yoga classes with international certification. Yoga School has RYS 200, RYT 200, and RYT 300 registrations with Yoga Alliance, USA. One of the most well-liked locations among Westerners and Indian yoga enthusiasts worldwide is Tapas Yogshala.
200hrs. Teacher Training Course Curriculum
Shatkarma ►
Yoga Asana ►
Pranayama ►
Mudra & Bandha ►
Yoga Anatomy and Physiology ►
Yoga Philosophy ►
Teaching Methodology & Practice ►
Meditation ►
Shatkarma ►
Explanation and Practice of six yogic purification techniques and their variations.
Jal Neti (Nasal cleansing with water)
Sutra Neti (Nasal cleansing with water)
Kunjal Kriya (Stomach cleansing)
Nauli (Abdominal Massaging)
Trataka (Concentrated gazing)
Dhauti, Basti, Neti, Nauli, Tratak, Kapalbhati
Yoga Asana ►
Pranayama ►
Mudra & Bandha ►
Yoga Anatomy and Physiology ►
Yoga Philosophy ►
Teaching Methodology & Practice ►
Meditation ►
Yoga Teacher Training Schedule
Daily
Schedule
Yoga Teacher Training Schedule
Our boarding facility is completely safe for everyone. The rooms are clean and spacious with ensuite washrooms and 24/7 Hot water facility. We can accommodate you a day prior to the start of the program. If you are arriving earlier, you will have to manage your own accommodation, else we will provide stay at an additional cost. Program fees includes accommodations on single/Double sharing basis.
At Tapas Yogshala, we strictly follow Vegetarian diet. Food will be provided thrice a day (Breakfast, Lunch and Dinner). The food provided at the Ashram is delicious – Ayurvedic meals. The food we consume is very significant in the yoga practice. It is also important how the food is prepared. The mind of chef in the preparation of the food has an impact on the quality of food cooked and served. Even the process of food consumption has an immense impact on the yoga practice. Considering all the aspects, we have been making conscious efforts in offering food as a sacred process of enhancing Yoga practice. 
Our library is very well stocked with books authored by many Spiritual Masters. It also offers a vast collection of books based on Yoga, Meditation Psychology and Philosophy in many languages. Daily newspaper is provided in Hindi as well as in English. 
Travel is a sensory bombardment in the most pleasurable of ways. Every moment is an opportunity to be truly present. We offer to arrange your transportation from the Delhi or Dehradun airport, our representative will receive you from the airport arrival lounge, the representative will assist you till your comfortable check in the school. Simply send us an email to arrange! 
Everyone is completely safe at our boarding facility. The rooms are tidy and roomy, and they have private bathrooms
Three meals a day of traditional vegetarian and sattvic food are provided by us.
One yoga book, a neti pot, and a yoga mat are all that are provided. The book contains in-depth information on asana, pranayama, mantra, and bandha.
For the benefit of all of our students, we offer high-speed, free WiFi.
Transportation (Pickup & Drop)
When you want, you can communicate with the outside world, or you can just stay in touch with the friends you meet along the way to transformation
Hot and cold water are available all day long in contemporary, roomy, and clean bathrooms.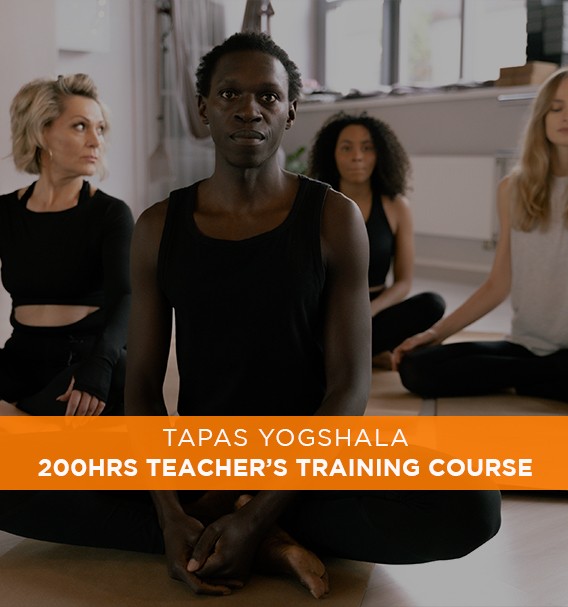 28 Days Accommodation and daily yogic food & tea.
A basic knowledge of English is enough to understand and participate in the training. Your teachers will assist you during the extra time if required, so that you may better understand the sessions. When necessary, we will also provide language translators, upon request for an additional fee.
All Classes/Sessions are mandatory. At Tapas, our Yoga Teacher Training program is a well-thought, experience-based framework. Wherein, every session is planned around a particular time for a reason. As you progress every week, you will explore the bigger picture of the training. Therefore, we require your undivided attention and desire to learn during the training period. In Yoga competition is not with anyone but yourself. Listen to your body/mind, understand your limits and try to progress day after day.
Explore Indian Culture, Natural Waterfall Visit, Meditation Cave Visit and Indian Village & Temples Visit
Aarti at the bank of river Maa Ganga and Meeting with Himalayan saints.
Upcoming Teacher's Training Courses
Frequently Asked questions
What courses does Tapas Yogshala offer
Tapas Yogshala offers 100-hour, 200-hour, and 300-hour Yoga, Pranayama & Meditation Teacher Training Courses, as well as Ayurveda Therapy, Detox, and Pranayama yoga retreats in Rishikesh
Is Tapas Yogshala registered with any international yoga organization?
Yes, Tapas Yogshala is registered with Yoga Alliance, U.S.A. It holds the status of RYS 200, RYT-200, and RYT-300, which ensures that the courses provided meet international standards.
What is the specialty of Tapas Yogshala?
Tapas Yogshala is known for offering traditional yoga education in the serene environment of Rishikesh. The school focuses on imparting authentic yogic knowledge and teaches Hatha yoga style. It is trusted by yoga enthusiasts from around the world.
Who can join the yoga courses at Tapas Yogshala?
The yoga courses at Tapas Yogshala are suitable for both Westerners and Indian yoga lovers. The school welcomes students from all backgrounds and levels of experience, providing a diverse and inclusive learning environment.
Are the yoga courses at Tapas Yogshala internationally recognized?
Yes, Tapas Yogshala provides international certification for its yoga courses. The certification is recognized by Yoga Alliance, U.S.A., which adds credibility and value to the training received at the school.
What is the teaching approach at Tapas Yogshala?
Tapas Yogshala focuses on providing a blissful and mesmerizing yoga experience in the lap of nature. The teaching approach emphasizes both theoretical and practical aspects of yoga, ensuring a well-rounded education for the students
Yes, Tapas Yogshala offers Ayurveda Therapy programs along with its yoga courses. This allows students to gain knowledge and practical skills related to Ayurveda, a traditional Indian system of medicine
How can one enroll in the courses at Tapas Yogshala?
Interested individuals can enroll in the courses at Tapas Yogshala by contacting the school directly through their website or by email. The school's staff will provide the necessary information and guidance for the enrollment process